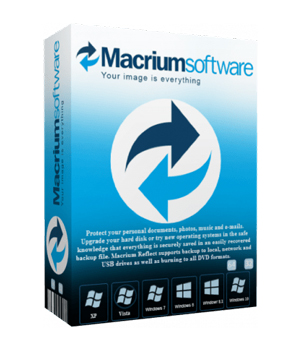 Macrium Reflect – is an advanced and efficient application that can assist you in creating compressed backup files of your most important data, with very little effort on your part. The program can easily backup entire computer partitions, or just selected files and folders, turning them into an archive which can be mounted in case you experience data loss, or you just want to copy large amounts of information in just a few moves.
Features
• Live imaging with Microsoft Volume Shadow copy Service
No need to shut down Windows to create a complete disk image of your PC.
• Simple step by step operation
Image and Restore using intuitive wizards and interfaces.
• Restore to new hardware
Includes Macrium ReDeploy™ to move Windows to a new or virtual PC. Including Windows Server!
• Scripting
Advanced users can use the VBScript scripting language for complex backup scenarios.
• Restore individual files and folders
Create a 'Virtual' drive in Windows Explorer and recover selected files and directories using simple copy and paste operations.
• Optimize
You can create full, differential or incremental images to optimize backup speed and disk space requirements.
Download
Macrium.Reflect.Technician.8.1.7544.Portable.rar – 32.8 MB
Macrium_Reflect_Rescue_817544.iso – 362.8 MB