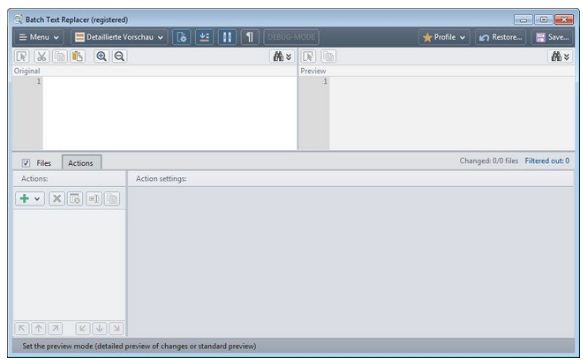 Gillmeister Batch Text Replacer – With Batch Text Replacer (formerly TextMage), you have a powerful tool at hand to edit multiple text files simultaneously.
The program contains a variety of powerful features to adjust the contents of text files as needed. For example, whole sections within a text can be replaced, inserted or removed.
Furthermore, you can add or remove line breaks, change the encoding of text files using the integrated text converter and much more. All functions can be combined and saved as a template for reuse.
Features
• clearly presented search and replace text in multiple files at once
• also batch process very large text files (up to a size of 40 MB and two million lines)
• save the settings made as profile for reuse
• edit specific sections of text files (for example, replace, move or swap sections within a text)
• perform line operations – edit lines in a text or within text files e.g., number, indent, replace, insert, swap, move or remove lines
• group functions and apply filter or higher-order functions to them
• search many files for occurrences of a particular term and further process or export the result list, or copy it to the clipboard
• search and replace multiple text phrases at once using CSV files
• change the encoding of text files (e.g., convert UTF-8 to ANSI)
• perform text edits using regular expressions and variables
• use the integrated batch mode to perform text operations via a script file
• preview the impact of each action
• undo changes made using the integrated zip backup
• apply extensive filters to limit the files to be processed (e.g., based on file size or encoding)
Download
Batch.Text.Replacer.2.15.0.Portable.rar – 4.4 MB