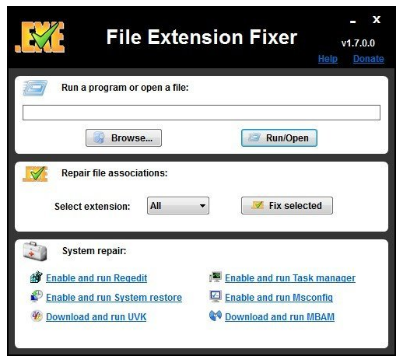 File Extension Fixer – is a software tool that can be used in order to aid individuals in running Windows apps such as Task Manager and Registry Editor, as well as repair damaged or corrupted executable formats.
The upper hand of portable apps
The installation process is not necessary, as this utility is portable. This means that it is not going to add any new items to the Windows registry or hard drive without your permission (as installers usually do), and no leftovers will remain on the drive after its removal.
You should also know that if you place the program files to a pen drive or other similar external storage unit, you can easily run File Extension Fixer on any computer you have been granted access to, with just a few clicks.
Settings you can configure
This software app can repair damaged or corrupted file extensions such as EXE, MSI, REG, BAT, CMD, COM and VBS, with just a click of the button. Aside from that, you can upload items with the help of the "drag and drop" feature or the incorporated file browser, and run or open them.
Aside from that, it is possible to enable and run Windows applications. To be more accurate, you can access the Registry Editor, System Restore, Task Manager and MSconfig, with just a few clicks.
Conclusion and performance
The system's performance is not going to be impeded, as the resources requirements are low at all times. All tasks are performed in due time, Help contents are provided online, the interface is user-friendly and our tests did not reveal any kind of errors or crashes.
Taking all of this into consideration, we can safely say File Extension Fixer is an efficient piece of software when it comes to repairing damaged or corrupted executables.
Download
File Extension Fixer 2.3.0.0 (3 MB)